At the beginning of this year, it was reported that more than 10,000 retired people had returned to live back in the UK since the 2016 Brexit referendum[i] . It's likely that more people will choose to return as new rules and regulations in different countries become clearer.
The Covid-19 pandemic could also prompt more people to want to come back to the UK. With many being unable to see family during this time, as well as healthcare systems that perhaps were not as reliable as the NHS or were costly if having to pay privately, living abroad may have lost its appeal for some.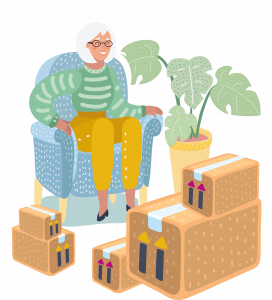 One of the biggest considerations for people moving back here after some time aboard is where to live. In many cases, people -sold their home to buy a new home abroad and with a strong UK housing market known for its high prices it can be financially challenging for people to get back on the property ladder if they have been away for some years.
Luckily, there is a great affordable housing solution for older people and that's to consider renting in a specialist retirement development.
We offer properties in well-located developments throughout the UK that are especially designed for the over 60s, and there are plenty of reasons why these are popular.
Firstly, by opting to rent people can try out a new area and if it's not suitable, they can move again easily. We have plenty of options in different locations.
For those looking for a more permanent home – most of our properties come with assured (lifetime) tenancies, which provide the same security of tenure as owning a home. Such tenancies mean people can stay in their home for as long as they wish.
One major benefit of living in a retirement development is that people have access to a ready-made community of people – and this has proved invaluable for some people over the past year.
Many ex pats who are returning to the UK will have lost touch with friends after moving abroad so being able to make new friends easily can be a real bonus. Our developments are very sociable and most organise events and activities for those that want to take part.
As people get older, they tend not to want the hassle of DIY and property maintenance and the good news is we take care of this for our residents and the maintenance costs are included in the rent. All our developments offer additional support including having an onsite manager available during the day and a 24 emergency careline in each apartment.
We have several residents who have relocated from overseas. One couple, who relocated to a retirement development in Highcliffe-on-Sea in Dorset are Barry and Pauline Jenkins, who had lived in Spain for 22 years after taking early retirement. They were very happy in Spain until Barry began to suffer from ill health in 2018 and they decided to move back to the UK.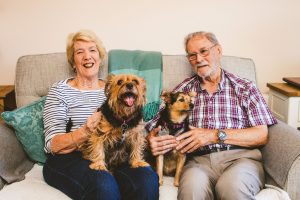 The couple sold their house in Spain and looked for a property to rent in the UK. Barry explains, "We wanted to rent rather than buy because renting gives us the option of upping sticks and moving in about a month if we decide to whereas you never know how long it's going to take to sell a property. Renting gives us that freedom of choice."
"The apartment was the first one we saw that ticked all the boxes and since moving in we've been very happy. Highcliffe-on-Sea is a small town, so we have everything we need close by and we're only five minutes away from the sea.
"We enjoy the social side of living here. We didn't know anyone in the town apart from our family and living in a retirement development has been a great way to meet people. There are regular social events like bingo, fish and chip suppers, charity nights and weekly coffee mornings which we enjoy – we're both outgoing people and have made lots of good friends."
Pauline and Barry also appreciate the other aspects of living in a retirement development, such as the onsite manager and the guest suite for visiting relatives. They find it reassuring to have the emergency call system in the apartment too, particularly as Barry walks with crutches and sometimes worries about tripping over one of the dogs and falling.
Barry says, "We took the flat on a six-month contract to start with but are both so happy here that we don't want to move again so we'll change to an assured tenancy when it comes up for renewal. Homecliffe House is a wonderful place to live with a great atmosphere – and the social life is a real bonus!"
If you are thinking about returning to the UK this year, please get in touch to discuss renting in one of our developments.